Video conferencing is a great way to communicate with remote individuals or groups. Common uses of video conferencing include bringing guest speakers to your classroom, interviewing job candidates, teaching/taking Five College classes with participants at other campuses, attending or hosting professional meetings and connecting with student organizations on other campuses.
LITS offers Zoom as the primary video conferencing option for the campus community. Zoom:
provides excellent video and audio quality, even over long distances, with extremely high stability and reliability;
is designed to be intuitive, so users can be self-sufficient once they are familiar with its use;
works well for one-on-one or multiperson meetings, up to 100 participants;
allows for screen-sharing, recording from a webcam and hosting webinars; and
does not require that participants other than the host have a Zoom account.
Your Zoom account
Your Zoom account is already setup with your @mtholyoke.edu email address!   
Login to Zoom 
To sign in from the Zoom desktop client:
Select Sign in with SSO.

2. Enter mtholyoke as the company domain and choose Continue.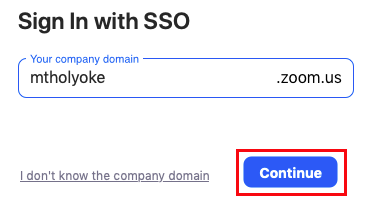 3. Select your MHC Google account when prompted.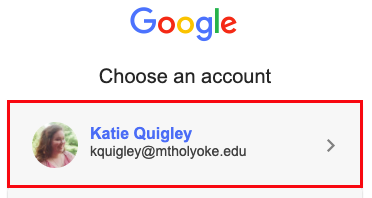 4. Choose Open zoom.us.app to complete logging in.