Video conferencing is a great way to communicate with remote individuals or groups. Common uses of video conferencing include bringing guest speakers to your classroom, interviewing job candidates, teaching/taking Five College classes with participants at other campuses, attending or hosting professional meetings and connecting with student organizations on other campuses.
LITS offers Zoom as the primary video conferencing option for the campus community. Zoom:
provides excellent video and audio quality, even over long distances, with extremely high stability and reliability;
is designed to be intuitive, so users can be self-sufficient once they are familiar with its use;
works well for one-on-one or multiperson meetings, up to 100 participants;
allows for screen-sharing, recording from a webcam and hosting webinars; and
does not require that participants other than the host have a Zoom account.
Your Zoom account
Your Zoom account is already setup with your @mtholyoke.edu email address!   
Login to Zoom 
To sign in from the Zoom desktop client:
Select Sign in with SSO.

2. Enter mtholyoke as the company domain and choose Continue.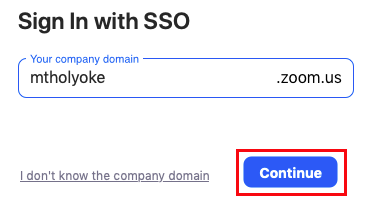 3. Select your MHC Google account when prompted.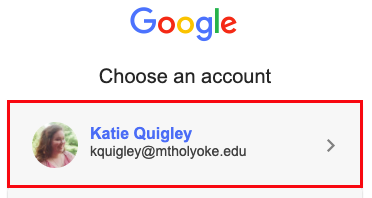 4. Choose Open zoom.us.app to complete logging in. 

You can also use Zoom on your desktop or laptop from any location with internet access.  Reserve a webcam and USB speaker/microphone if your computer doesn't have one.
For group or class video conference sessions, one option is to reserve a webcam and USB speaker/microphone to use with the computer in your usual room. If you need help setting up the hardware in a space not already equipped with those, fill out the video request form.
If you prefer to book a room on campus that already has video conferencing equipment installed, or look up what equipment is in a particular space, you can do so online with the campus Space Reservation System. Search or filter for "video conferencing system" under room features. If you want to book a room in the Library, fill our the library room reservation form.
Zoom requires an internet connection, computer, webcam and speakers/microphone or headset. Zoom works on Mac, Windows, Linux, Chrome, iOS and Android.
Waiting rooms 
The waiting room feature allows the host to control when a participant joins the meeting. Meeting hosts can admit attendees one by one, or hold all attendees in the waiting room and admit everyone at once.
mtholyoke.edu email addresses will be added to an "allow list" so anyone with an MHC account will bypass the waiting room. 
Hosts can also add participants with Five College accounts to their own "allow list" to make it easier for Five College participants to join.
Passcodes
Passcodes are not required, but can add a layer of security to a meeting. 
To keep your meeting secure, the best practice is to make sure "Embed passcode in invite link for one-click join" is turned off. While this creates one more step for participants, it protects the meeting from uninvited guests.

This will require you to have the passcode sent within the invitation. We recommend this option if you are hosting a public-facing event.
Live transcript
Optional ability to turn on and off live machine generated live text 
Live transcript allows Zoom meeting attendees and hosts to turn on machine generated auto captions in real time, which individual attendees can choose to display either at the bottom of the screen, in a separate window, or not at all. Hosts may enable this feature by turning on the auto caption option in the meeting settings. 

As live transcripts are machine created, accuracy will not be perfect, and will likely not be at the accuracy level required for accommodations to meet accessibility needs.
To turn on live transcript
To turn on live transcript
Log into your Mount Holyoke Zoom account at https://zoom.us
Under "In Meeting- Advanced", toggle "Closed captioning" on
Check the box for "Enable live transcription service to show transcript on the side panel in-meeting".
Click Save.
Optionally: toggle on or off "Save Captions" to allow participants to save closed captions or transcripts (if you do enable this, let participants know that other attendees can save the transcript text). 
During your meeting: click on "Live Transcript" on your Zoom toolbar at the bottom of your screen and click "Enable Auto-Transcription"
Zoom Cloud Storage Retention Policy - 30 day storage limit
Cloud Storage Retention Full Policy 
Recordings saved to Zoom cloud storage will remain for 30 days only.
All Zoom recordings saved to the cloud will automatically be copied into Kaltura within about a day, where they are accessible to the meeting host long term.
 See the Kaltura Help Guide for how to manage, access, edit, and share video content from Kaltura. 
It is important to keep Zoom up-to-date.  This Zoom page provides guidance about how to check for available updates.  If prompted by Zoom to run an update, please do so. 
If your Zoom meeting is going to be open to the public and widely shared, here are some settings to improve the security of your session. 
Open your Zoom profile settings
Visit zoom.us
Login to your Zoom account 
Choose Settings from the menu on the left 
In the Meeting tab, adjust these settings
If you want more control over who is allowed to join your meeting, turn on Only authenticated users can join meetings and select your authentication requirements: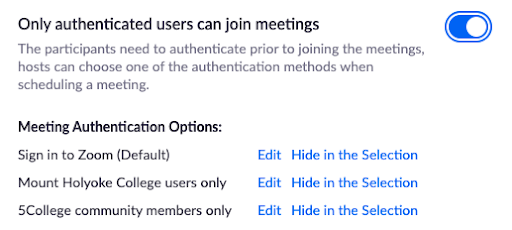 To turn on this setting for a specific meeting: 
Open Zoom and choose Schedule 
Once you've entered the details of your meeting, open Advanced options
Check the box Only authenticated users can join
Choose whether you're requiring a Zoom login, a MHC login, or a 5College login from the dropdown menu.
Click Schedule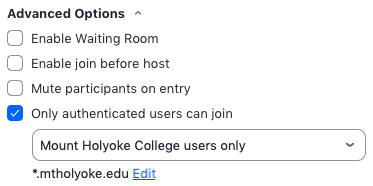 If you don't want your participants to be able to share their screen, select Host only under Screen sharing: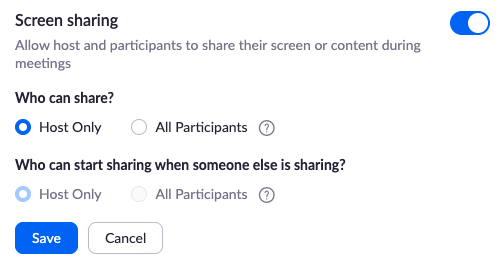 Schedule a Meeting: 
Visit zoom.us
Login to your Zoom account 
Choose Meetings from the menu on the left 
Under Upcoming Meetings, choose Schedule a New Meeting. 
Settings to adjust as you schedule a meeting: 
Registration
This feature will set up a registration page for your meeting and then create an individual link for each participant. You also have the option to approve or cancel participants' registration. More information here.
Meeting Passcode
This setting adds a layer of security to your meeting, and will allow you to create a passcode that participants will need to join the meeting. More information here.
Enable Waiting Room
This setting lets you individually allow participants into the meeting. More information here. 
Settings you should avoid
Join before Host
Join before host allows anyone with the link to your meeting to join whether or not you've started the meeting. This also takes away your ability to end the meeting for all. More information here. 
More information
Although Zoom is a very advanced video conference system as regards accessibility, some users may still need alternatives to fully participate in Zoom activities. Each meeting organizer or their designee is responsible for providing accommodations for Zoom users with disabilities. 
Recommendations:
Place a standard statement in every meeting invite, such as: "Although Zoom is a very advanced video conference system as regards accessibility, some users may still need alternatives to fully participate in Zoom activities. If you need an accommodation, please inform your meeting organizer as soon as possible." Include the meeting organizer's contact information.
Place the Zoom accessibility features statement in every meeting invite: https://zoom.us/accessibility.
Share link to Zoom keyboard short cuts and Help Center when sending Zoom meeting invite or upon request.
Sharing screen content: Incorporate description of shared content into the spoken presentation. Provide another means to access content and URLs shared on screen, such as posting accessible presentation after session.
Annotation: Verbally describe the drawing or other visuals shown.
Record meeting for distribution (create video) and captioning: Captions are required if the video will be publicly available, used in a future term for a course or if class or meeting participants need this accommodation. For course accommodations, please contact AccessAbility Services. For other captioning needs, please contact Media Services.
Conducting a poll: Offer multiple response methods, e.g. participate in poll, type response in chat room, or speak over audio/telephone.
Chat room content: Include chat room discussion in verbal meeting discussion. This benefits participants using telephone connections, who have no access to chat rooms, or participants using captions or who have difficulty attending to presenter and chat simultaneously. Save and share chat transcript: At the bottom of the chat window, click on "save chat." Chat saves as transcript in notepad under Zoom folder. As host, distribute transcript to participants. Stay on chat for a few minutes after session ends for those who may want to save the chat.
Breakout Rooms: Accessibility actions apply to breakout rooms. To use breakout rooms, enable the setting in advanced features.
How to change your default name in the Zoom Desktop Client: 
Open Zoom and sign in with SSO as described above. 

2. From the desktop client homepage, select the gear icon to access your account settings.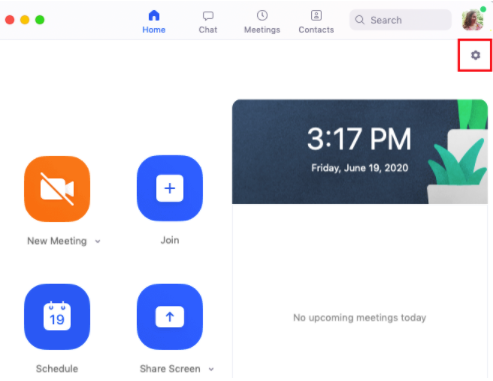 3. Select Profile from the list of tabs on the left. Then choose Edit My Profile.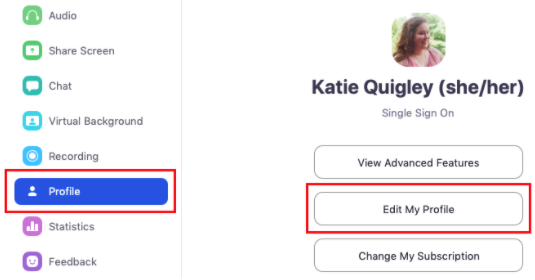 4. To change your name and pronouns, click Edit on the right side of the page.
For Zoom version 5.7 and newer: You can enter your first name, last name, display name (the name you want to show up on your video during a meeting), and your pronouns. At this point, you can choose to always share your pronouns in meetings, to be asked each time you enter a meeting, or to never share them in meetings. You can also add other profile information including Phone, Department, Job Title, Company, and Location. When you're ready, choose Save Changes.
Note: Pronouns are always visible to your contacts on your profile card.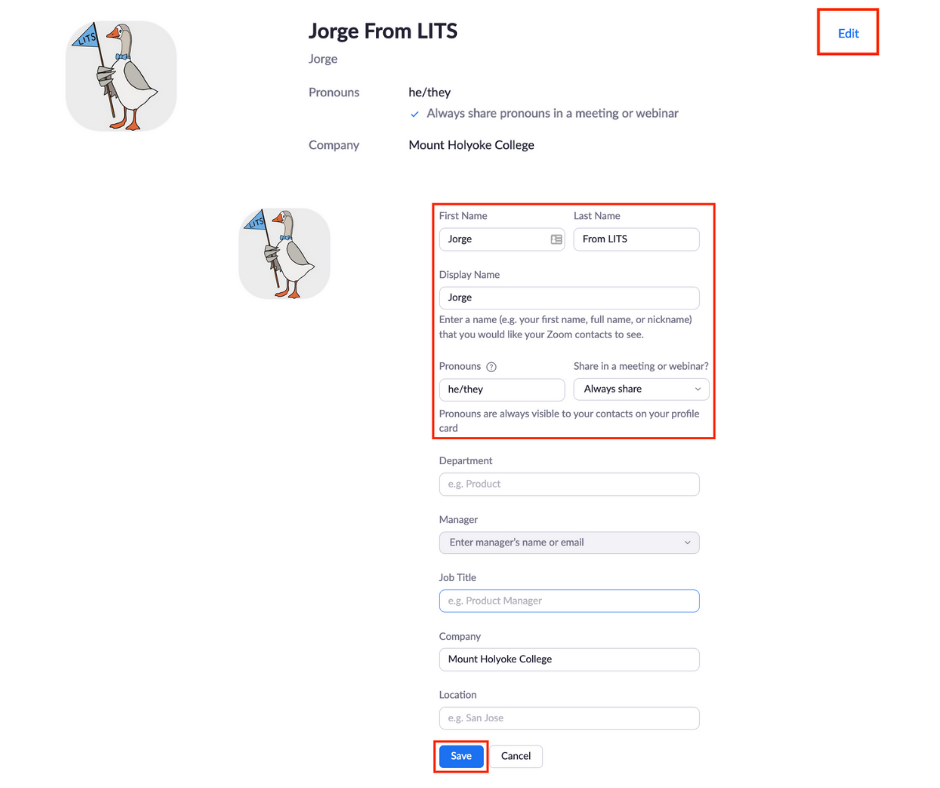 For older versions of Zoom: Feel free to enter your pronouns after your last name (example shown below). You can also add other profile information including Phone, Department, Job Title, Company, and Location. When you're ready, choose Save Changes.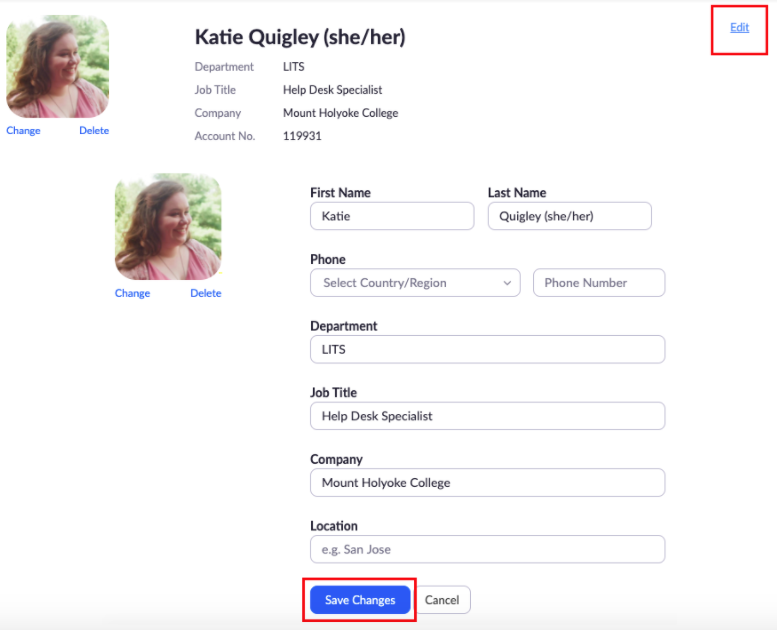 How to set a temporary name before a meeting: 
You also have the option to change your display name on a meeting-to-meeting basis. Creating a new, temporary name for a specific meeting will not change your default name. 
Login to the Zoom desktop client as described above.
Select Join.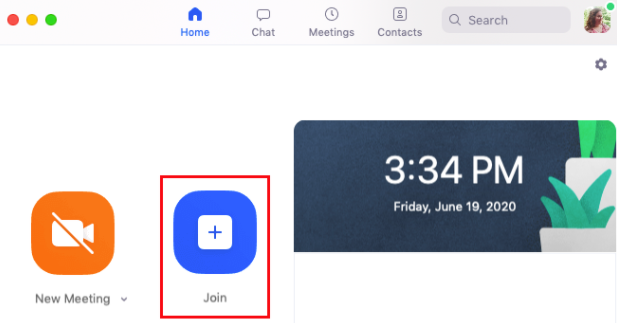 3. Enter the meeting ID or personal link name. Your default name will appear below the meeting ID. You may edit this name to create a temporary, meeting-specific name. When you're ready, choose Join to enter the meeting.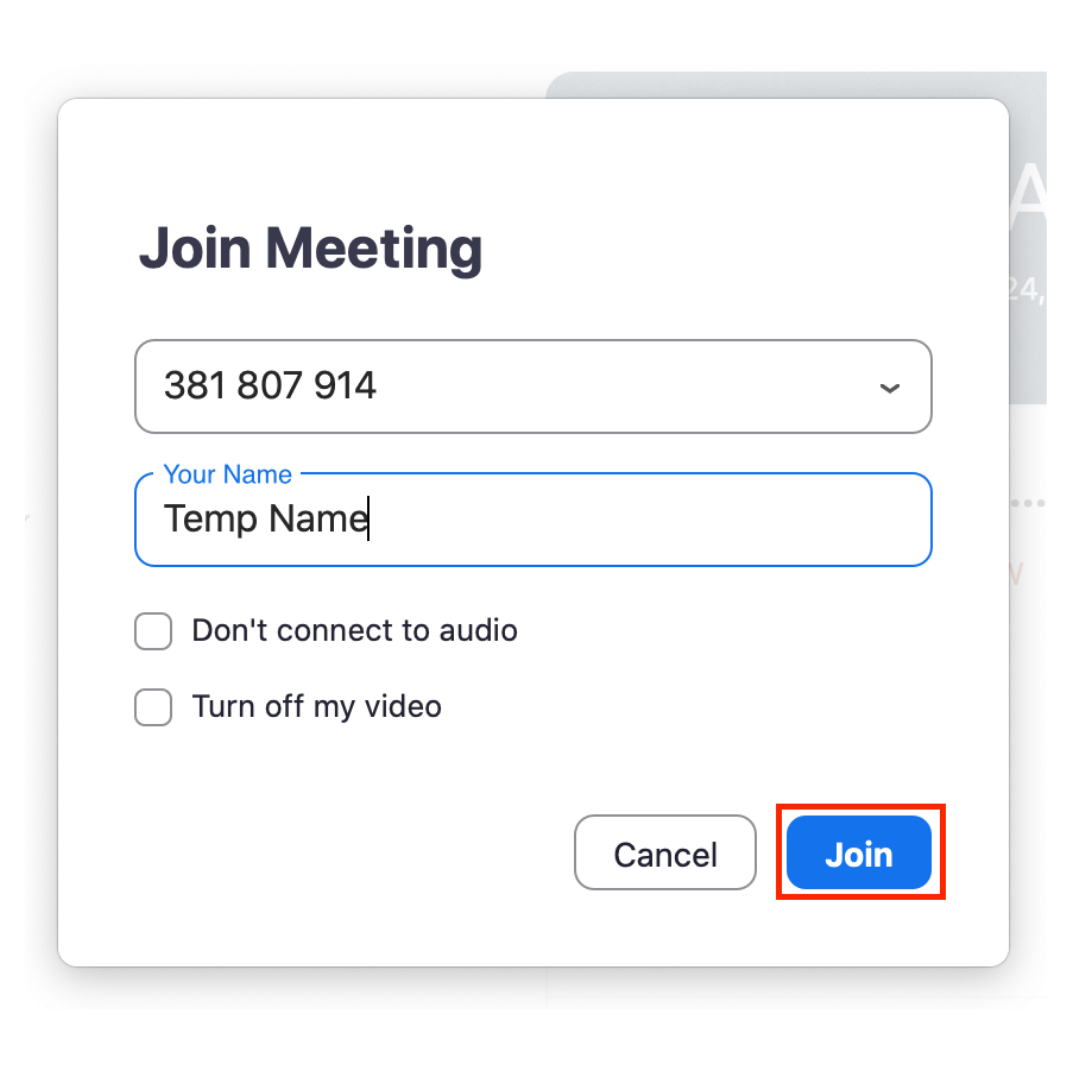 LITS support
LITS offer a Zoom-based orientation for first-time users that takes about 15 minutes. We cover:
Installing Zoom
Scheduling your video conference
Starting your video conference
Audio/video settings
Overview of the Zoom software
If you need a room or assistance getting started, fill out the video conference request form (you must be logged in to your MHC account) at least 7 days before your video conference. If you are the only participant at Mount Holyoke College, you can use Zoom on your desktop or laptop.
LITS can provide set-up assistance at the beginning of the first Zoom meeting, if you require it. LITS does not provide a staff person to remain in the room during the entire meeting or class.
Emergency support is available should any mid-session issues arise. Please contact Media Services.
Zoom support