This summer the Five Colleges Libraries will implement the FOLIO library services platform.  FOLIO (The Future Of Libraries Is Open) is a collaboration of libraries, developers and vendors building an open source library services platform that supports traditional resource management functionality while also opening the door for innovation in an increasingly digital world. Five Colleges will be the first library consortium to fully implement FOLIO, and we are excited about the opportunities this future-looking system will provide.           
At the end of June we will move back-end system operations from the current Five Colleges library system (ALEPH) to FOLIO. We will also retire the separate Five Colleges Libraries Catalog search interface and consolidate the discovery and access of library materials in Discover. Discover is a reliable interface that has been in use at MHC since 2012, and it will continue to include all of the records held in the retiring Five Colleges Libraries catalog as well as from most of our subject-specific databases. Additional tools that enable users to request items and manage their accounts within Discover will also be implemented at the time of migration, streamlining the request process and allowing for increased functionality (you'll be able to see where you are in the request queue for an item!). To learn more about the retirement of the Five Colleges Libraries catalog and Discover, visit our Using Discover Guide.
As the spring semester ends, final preparations for migration will begin. While we aim to complete this work with minimal system downtime for the community, some user services and staff work will pause in the lead up to migration, and as our new systems are connected and come online at the end of June.
Still have questions after reviewing this page? Contact mhcfolio-g@mtholyoke.edu.
Transition Timeline
Below you will find key dates for data extraction from our legacy catalog system and dates when some LITS services will pause: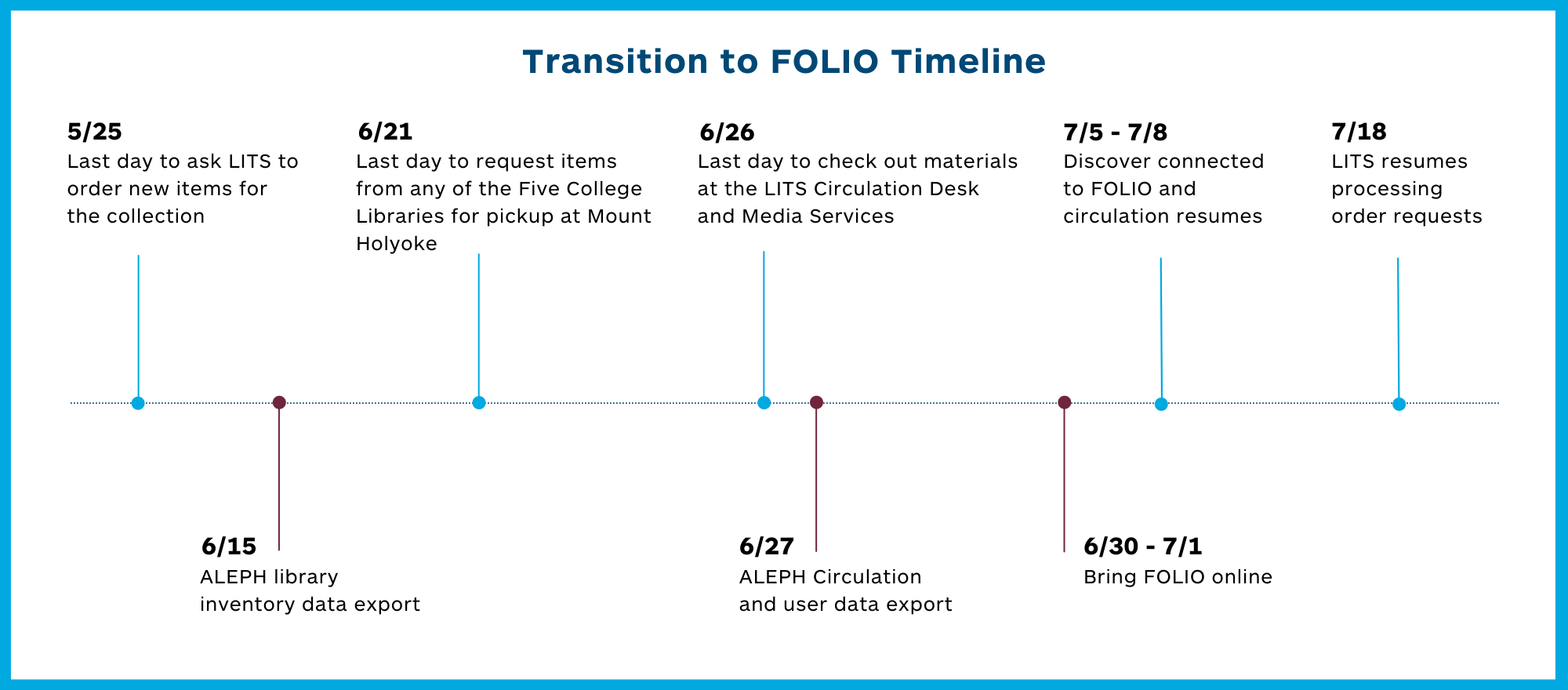 Important migration dates & deadlines:
May 25: Purchases of new items for the library collection will pause. LITS will resume processing requests submitted via the purchase request form on 7/18.
June 21: Last day to request physical items from any of the Five College Libraries for pickup at Mount Holyoke before requesting is paused across the consortium. 
June 26: Last day to check out physical items (e.g., books, DVDs, phone chargers, laptops, cameras, etc.) at the LITS Circulation Desk and Media Services before circulation activity is paused. Checkouts will resume in early July.
July 8: Circulation of physical materials resumes.
July 18: LITS begins processing new purchase orders again.
Using LITS resources during the transition:
Planning for your summer research and projects will help ensure that you have the library resources you need for your work during the system migration. Submit requests for books from the Five Colleges by June 21, and visit LITS to pick up the materials you need by June 26.
From June 29-July 8, Discover may have some errors or not be fully functional while we reconnect different systems. We recommend using the Databases A-Z list to use specific databases and the Journal Locator to find online access to specific journal articles and newspapers during this period. If you already have a link to an electronic resource, like a link to an ebook in your Moodle course, it will remain accessible throughout the transition. Consult with Research Services via email at researchservices-g@mtholyoke.edu or make an appointment if you need assistance.
LITS staff across multiple service areas will be working to make this as smooth a transition as possible. Some services will be temporarily unavailable and response times may be delayed. Keep an eye on the LITS website for the most up-to-date information about the status of the transition and services available during this period.
FAQ 
Have a question? Review answers to our frequently asked questions below: