Hours this week
Service desks are closed during all College holidays.
1/3 - 1/7: 8:30am - 5pm
1/8 - 1/9: 1pm - 5pm
1/10 - 1/14: 8:30am - 5pm
1/15 - 1/16: 1pm - 5pm
1/17: CLOSED
1/18 - 1/21: 8:30am - 5pm
1/22 - 1/23: CLOSED
1/24: 8am - 2am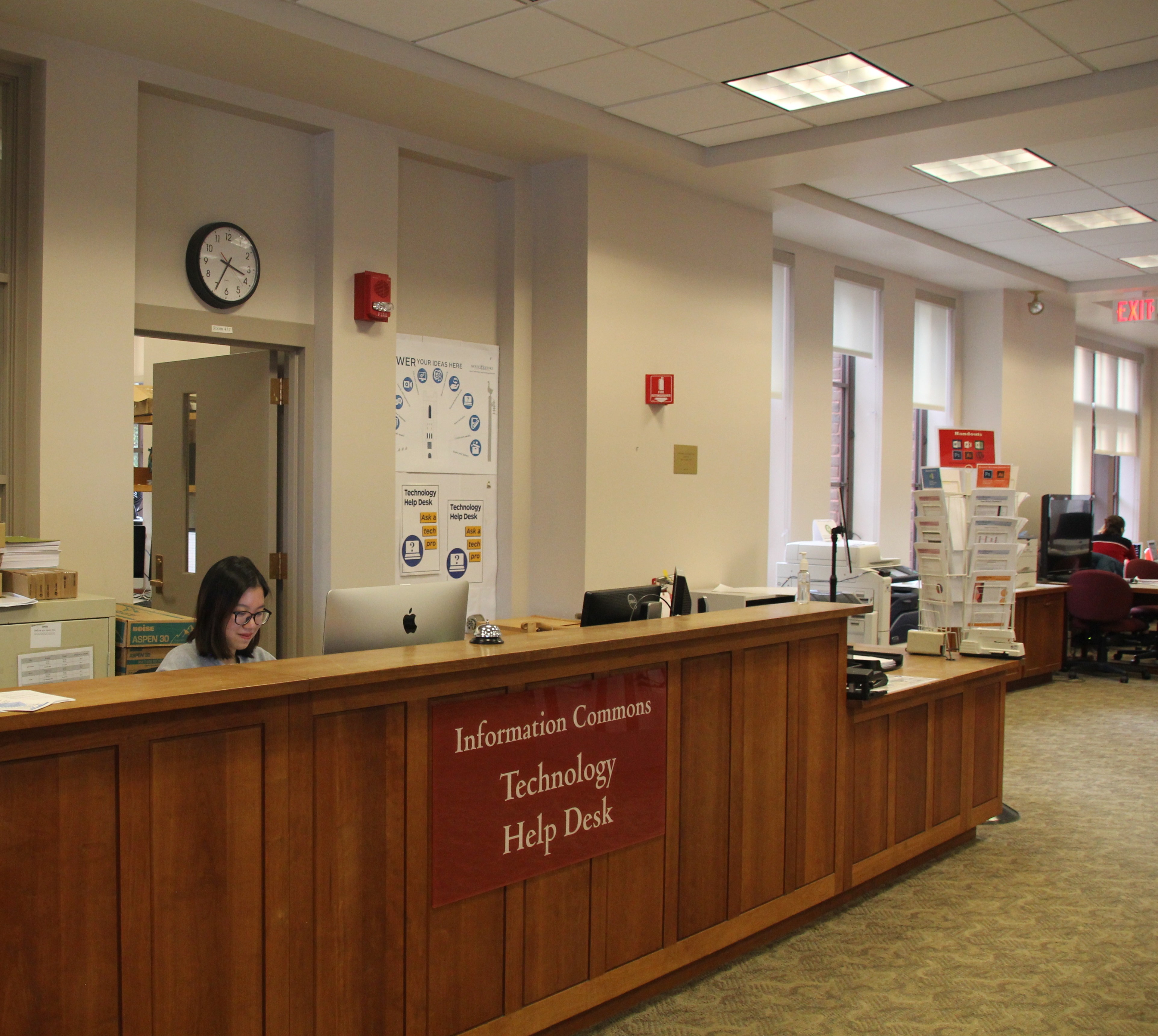 ---
We encourage you to come to us with any technology problem you can imagine, and we will help if we can. However, we do have core services that we focus on, where we can provide truly in-depth support for you. In other cases, we will do our best to direct you to other appropriate on- or off-campus resources.
We try to live up to our name and help all those who come to us, one way or another. If you don't know where to turn and are worried you might be going  to the wrong service desk, come to us! We will help you to figure out your next steps.
For College-owned faculty, staff, classroom and lab computers, we provide hands-on support. For personally owned computers or devices, we can advise you about steps you can take yourself to resolve your issues.
We are professionally staffed from 8:30am to 5 pm every weekday and our expertly trained students are on duty for phone or in-person support until 10pm on weekdays from 9am to 10pm on weekends. 
Printing
We also commonly  assist with printing. LITS provides a variety of cloud- and location-based printing services and can help you with printing to our public printers, printing to department printers, checking students' printer account balances, providing refunds and answering how-to questions about your printer needs. See printing on campus and setting up Mobility Print for answers to your specific questions, but, as always, feel free to contact us directly for assistance.
Tools for doing work
Software
Another common category of service we offer is software support. We provide in-depth support on MHC's standard desktop and user software products, such as Google Mail, Drive and Calendar; Microsoft Word, Excel and Powerpoint; and Adobe InDesign, Illustrator and Photoshop. We provide support for Windows 7 and 10 operating systems, as well as later versions of the Mac OS X operating system. We help you set up on-campus network connectivity and access to Google Mail, Drive and Calendar on  your iPhone/iPad or Android mobile devices.  See more on software.
Hardware
The Technology Help Desk also facilitates all hardware repair for faculty, staff, classroom and lab computers. We can diagnose problems and perform warranty repairs on all College-owned Apple and Dell computers.  You can carry your laptop to us or arrange to have a field technician come to your location. In most cases, we can turn around hardware repairs in just a few days, and we can supply loaner computers for longer repairs.  
Students with hardware problems on their personally owned computers should go directly to the Technology Help Desk for diagnosis. If your Dell computer was purchased through the Smith College Computer Store, we can provide in-house warranty repair. For other hardware repairs, we can help you figure out the next steps for getting your computer repaired by the manufacturer - including being 10 miles from an Apple Store.
Student computer help is available during business hours at the Technology Help Desk, Monday-Friday, 8:30-4pm.
Bring your power cord! We cannot work on a computer running only on battery power, and we cannot provide a power cord for you.
If we cannot resolve your problem, we can refer you to your manufacturer's technical support or a certified computer repair business.
We do not work on printers, scanners, cameras or any other computer peripherals. However, we would be happy to assist you in finding the appropriate contact information for repair shops or manufacturer-provided support services.
See more on hardware.
OneCard
The Mount Holyoke College ID / OneCard is a multi-purpose photo ID card issued to all incoming students.  Come into the Technology Help Desk during business hours to get or replace your OneCard.
See more on OneCard services. 
Access and internet connectivity
Accounts, Passwords, Network
One of the most common services we provide is help with accessing and connecting to MHC resources. If you need help with your MHC email account, resetting your password, connecting to the wired or wireless network or using VPN from off campus — contact the Technology Help Desk! We can get you back on track quickly and efficiently and help you avoid problems in the future.  Learn more about access and internet connectivity.
Security and privacy
The Technology Help Desk can also assist faculty and staff with suspected virus or malware infections on College-owned computers. If you are experiencing random pop-ups with alarming messages, significant computer performance slowdowns or unexpected random changes to your desktop or browser appearance, contact us as soon as possible! We can diagnose and clean your system to ensure you are not bogged down with software infections.
Students who suspect they have a virus or malware infection on their personally owned computers should go directly to the Technology Help Desk. They can help you figure out the next steps for getting your computer cleaned up and functioning optimally again.
Learn more about security and privacy.